The ongoing drought in the Sahel has taken the back seat in the news as of late to the various happenings in Mali. Not that the drought was getting much attention in the first place.
On Friday, I participation in a Google+ Hangout with World Food Programme staff who are supporting Malian refugees in Mauritania. People from Mali began crossing into Mauritania in late January and the flow of refugees has continued at a steady pace every since.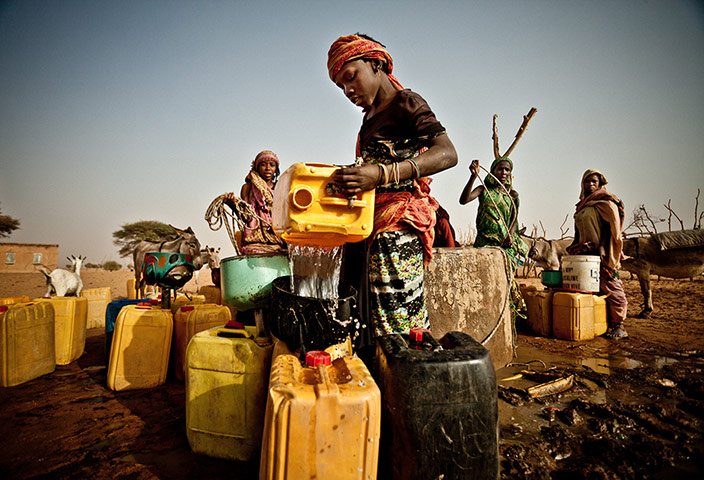 A woman fills containers from a well in Natriguel, in the drought-stricken south. Photograph: Pablo Tosco/Oxfam
Conflict and drought have created a humanitarian perfect storm. People are leaving their homes for personal safety and to access food. "Conflict has exacerbated the situation that already was there," said WFP's Justin Smith. WFP currently has two distribution sites set up and will bring that number to five in the near future. They estimate providing food to some 10,000 people a day with a total of 60,000 refugees in a single camp.
Due to the distance traveled and crossing borders, people are entering Mauritania with little or nothing. Smith commented that the number of dead cattle scattered about is striking. People who would usually rely on the milk and sometimes the meat of cattle are without any source of food.
Smith said WFP distributes rice, oil, sugar, salt and super cereal, a corn and soya fortified with essential vitamins and nutrients, that people put together into a porridge. Knowing that WFP is making steps to source more of its food aid locally, I asked where they were getting the food that was distributed in Mauritania.
"On average, Mauritania markets import 70% of its food internationally," said Smith. The salt comes from Senegal, but the rest of the food comes from the international market. "Mauritania is differnet than rest of Sahel. Population eats largely wheat rather than rice," Smith continued. This means that the region is not as capable of meeting the local needs given the diet of Malians. "Logistically getting food from the region to Mauritania is longer than going to international market."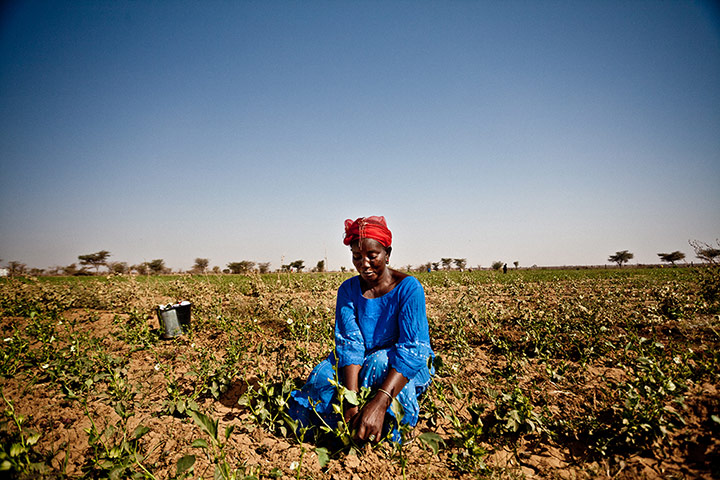 Seidou Sy Fame works long hours in the community field to tend crops threatened by drought. The villagers living in Ganki, near Ari Hara, are struggling to get by. Photo: Pablo Tosco/Oxfam
Because Mauritania for its domestic markets generally looks to the international markets for food imports, the WFP is following suit. The total cost is cheaper, even with the shipping, that what is available locally. However, WFP is piloting a program that may do a bit to spur local economies.
A direct cash transfer program provides women with roughly $45 a month. It is calculated to be just above the amount necessary to meet minimal food consumption needs. "Because markets are functioning, we are providing the ability for people to purchase the food in the markets," said Jacqueline Seeley.
The money is sent to the women through a phone banking system, thus preventing the potential of graft and making it easier for those who live in more remote areas to access the money immediately. The program will monitor markets that surround where cash is distributed to ensure there are no market disruptions and meets the needs of each of the families. It also serves as a form of evaluating the program.
Individuals are not restricted in how the money is spent. Seeley said there is not much to purchase other than food in the local markets. "Situation in Mauritania makes it hard to acquire other items," she explained. Otherwise people will be paying for school fees and health services.
The long term vision is for community lead and run projects, explained Smith. The cash voucher program seems to be the direction WFP is looking. "It is far easier to give people money than it is to distribute food. Especially in parts like rural Mauritania," said Smith. The hope is that cash injection into the economy will allow for a more sustainable solution.